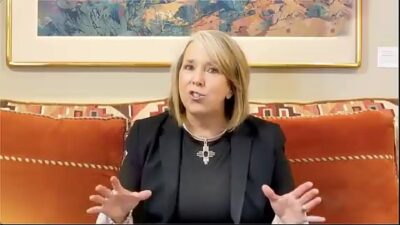 On Saturday, the Democrat Party of New Mexico held a virtual "rally" touting their new initiative, "New Mexico for All," which is a coordinated campaign across the Party to express support for Democrat candidates.
During the call, Democrat U.S. Rep. Joaquin Castro (D-TX) promoted Joe Biden's campaign, saying that "Joe Biden is a person of strong character, a decent man, a man of compassion, someone that will restore competence and sanity to our government." In recent months, many people have questioned Biden's sanity, with a recent Rasmussen poll showing 38% of voters holding the belief that Joe Biden has dementia. 
During the virtual "rally," members of New Mexico's congressional delegation patted themselves on the back, including Senate candidate Rep. Ben Ray Luján (D-NM), who claimed the only way to correct "injustices" was to vote for Joe Biden in 2020. However, Luján did not mention Biden's abysmal record on race, which even far-left NBC News and New York Magazine called it "problematic."
Rep. Xochitl Torres Small did not mention Joe Biden, but repeatedly mentioned how "proud" she was to "be a Democrat," despite her previous ploys to appear "moderate" and not following the party-line. She also spoke about how she looks to plus orphaned oil wells and invest in "environmental energy."
Gov. Michelle Lujan Grisham was not physically on the call, but she did have a pre-recorded message play, in which she touted her expensive social justice programs, her free pre-K plans, and her future "effort well underway to provide universal free college to every New Mexico student." The plan would cost the New Mexico taxpayers an estimated $35 million annually, but that is a rough estimate. She did not mention how she plans to pay for these costly new initiatives, especially as local businesses, have been forced to close — many for good. 
The Governor recently had the New Mexico Legislature convene to fix her $7.6 billion budget passed during the 2020 Legislative Session, in which millions of dollars in spending had to be cut. However, once the budget reached Lujan Grisham's desk, she vetoed $23 million meant to go to Tribal communities hurting from the ramifications of COVID-19, and she cut $15 million specifically meant to help other Indigenous communities hurting from the effects of the virus.
According to the New Mexico Restaurant Association, approximately 700, or 20% of New Mexico's restaurants are estimated to close their doors permanently due to her latest order, and nearly every other industry has been hit hard by the Governor's strict coronavirus mandates.